In addition to gaining an understanding of the human body and its proportions, my students' figure drawings show an emphasis on relating the figure to its environment. This better prepares students in the long run for integrating the figure into a composition.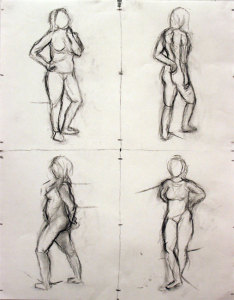 Intro to Proportion Exercise (5-minute poses), charcoal on paper, 24"x28"
In this introductory exercise on human proportion, I borrowed a method I heard about from a student of Lennart Anderson. This simple method for quickly sizing up the human figure uses small register marks at the edges of the page. These give the students a reference by which to measure the figure. As they gain confidence, students are weaned off of this method, as proportions are internalized.